I fell behind on my menu recaps for one week. The only thing I cooked the first week of the year was chili. So there really wasn't anything to "recap" – I did share the recipe so that counts right?
I also "cooked" a pie last week, that I shared with you on Monday: PDub's Mocha Silk Pie.
We did make it out for dinner one night, which is pretty rare for us. We had to try the new-to-Oklahoma Oklahoma Joe's in Broken Arrow. It was everything we had hoped it would be. We first tried Oklahoma Joe's in Kansas City and fell in love. I only hoped that the Oklahoma version would be just as good. And it was. I had the burnt end dinner with their BBQ beans. So good. Highly recommend it.
Week 2 was a little better – here's what we had:
Tuesday: Slow-Cooker Chicken Tikka Masala
I was craving a spicy dish, so I decided to revisit an old favorite. Easy, delicious, great for a cold winter night. This time I planned ahead and prepared everything the night before, threw the crockpot in the fridge so all I had to do in the morning was plug it in and turn it on. Much better than trying to get it all ready in the morning before work.
Friday (tonight): Chunky Chicken Noodle Soup
I'll go into more detail when I share the step-by-step of the recipe, but I made my own chicken stock in the crock pot all day, then used it and the cooked chicken for the soup. Homemade chicken stock is so much better than the canned/boxed kind, plus it's healthier (lower in sodium, preservatives, etc.), so if you have the time, make your own.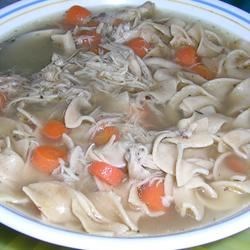 That's it for this week – what did you have?