My week 14 started off a lot like my last 2 weeks, no cooking at all. We had Easter with Sam's family and, as usual, ended up with a million leftovers. So that was our Monday night meal.
Sam would kill me if he knew I was posting a pic of him as the Easter bunny on my blog… good thing he doesn't read it!
Then Tuesday, I attended a Spirited Canvas painting class at Johnny Carino's so Sam was on his own again with the leftovers. The class was really fun and they give you everything you need. Paint supplies and step-by-step instructions that guide you to create your own painting. We had a great time!
Not so bad for two amateurs!
Wednesday and Thursday were leftover days and FINALLY on Friday, I cooked dinner. Not sure what my deal is lately, but I've been too busy to cook!
Friday was our last meatless Friday as it was Good Friday. How many times can I say Friday in a sentence? I made this pasta with portobello mushrooms and asparagus in boursin cream sauce.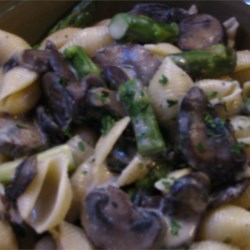 I made some changes so I'll share the step-by-step later this week.
Here's to catching up on life so I can start cooking again!