Summertime cooking is hit or miss for me. It's so hot, so it's hard to really want to cook. But this year we got a grill, so that changed things a lot!
pepperoni burgers | I really made these in June, but wanted to recap here since I forgot to include it in the June recap. It's a unique take on burgers, that will be sure to please everyone!
chocolate chip cookies with sea salt – I made the chocolate chip cookies from the cookbook Baked. But the chocolate chip cookies are not the point. The point is the sea salt you add on top of the cookies before you bake them. Oh my. So good! Try it and let me know what you think.
strawberry shortcake – I started making this strawberry shortcake 6 years ago for the 4th of July. It has quickly become one of my favorite traditions – I love treating new friends every year to this delicious dessert.
grilled sweet potatoes –  In July a great thing happened…we got a grill as a wedding gift from my grandpa. We put it right to work the day it was delivered with steak, corn and these grilled sweet potatoes. Highly recommend these potatoes, just don't over boil them (I did) so they don't fall apart.
asian chicken skewers & veggies with peanut sauce – go check out my new adventure at 3plates
grilled burgers (minced red onion & jalapeno) | No recipe required for this one. We added minced onion and jalapenos to the hamburger meat before forming into patties for some extra flavor. I also grilled some red onion as a side, inspired by the deconstructed guacamole at Smoke.
cucumber basil moscow mule | I concocted this little number after having a similar drink at a happy hour. It's an easy way to change up the moscow mule. First, muddle some cucumber (about half a cucumber, sliced) and basil (2 leaves) in a shaker. Add 4 shots of vodka and ice and SHAKE it up. Strain the vodka into two glasses, add ice and top with ginger beer leaving a little room at the top for a splash of soda water. Garnish with cucumber and basil and enjoy! So refreshing!
Gwyneth's slow roasted tomatoes | These tomatoes can transform your meal into a decadent treat.
homemade pasta | For my & Alisha's birthday, we got a group together and reserved the Urban Kitchen on Cherry Street and learned how to make pasta. It was a lot easier than I expected it to be and we had a lot of fun. I highly recommend the cooking classes at this kitchen – so much fun!
grilled filet & grilled romaine with black garlic vinaigrette| For these grilled filets, the key is 1) good quality beef from a local butcher (Harvard Meats) and 2) high heat for a good sear. To season, just use salt and pepper – use a little more salt than you think you need (this is hands down the best tip I've ever used and the ONLY way I make steaks). Slap on the hot hot grill and sear on both sides with nice grill marks. Transfer to a not-so-hot section of the grill to continue cooking to your desired doneness (medium rare if you know what's good for you).
spicy cheese sauce | You may have noticed some cheese sauce on the filet. I used some spicy cheddar cheese and made a simple bechamel sauce and added the cheese to create a yummy add-on for the steak.
black-garlic vinaigrette | I made this unique black garlic dressing to top the grilled romaine. I used balsamic vinegar, black garlic and olive oil. I really liked the black garlic and would definitely use it again.
waffles in action | I got Sam the Cuisinart 5-in-1 griddler and the waffle attachments to go with it. So, naturally we made waffles for breakfast immediately. I just used this basic waffle recipe – so fun and yum.
panini with pastrami and spicy cheese | the Cuisinart mentioned above is also a panini press – piled some sourdough high with pastrami & cheese and PRESSSSSSSSSSSSSSSSSSED.
pesto | with my abundance of basil this summer, I decided to make and freeze some pesto. Use any recipe you like, freeze in small batches laying flat until frozen, then you can stand them up or stack them in your freezer for future use. A great way to preserve some tastes of summer.
pasta with pesto sauce | Della Terra Fine Pasta out of OKC, sold at Whole Foods in Tulsa is fresh pasta, never dried or frozen with few ingredients. I combined with some pesto and whole milk heated through. An EASY and delicious, real food meal.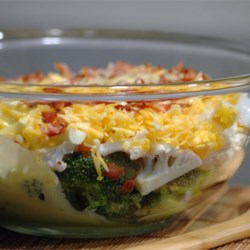 broccoli cauliflower salad | This is one of my favorite salads. It's always present at our family functions so I decided to whip it up one weekend to take to the lake with my fam.
grilled chicken with spaghetti squash | Nothing fancy, just salt & peppered chicken thighs, grilled. Served with spaghetti squash tossed with butter & a little cayenne. Simple, yet scrumptious.
stir fry with chicken thighs | No recipe, just toss 1-inch cubes of chicken (thighs or breast) in with some olive oil, your favorite veggies, cook until tender and chicken is done. Make a hole in the middle and crack a couple eggs, cook through and serve over noodles or rice.
green onion oil | I am sharing a recipe from a friend. She was so kind as to teach me how to make this green onion oil via Instagram. I made it and LOVE it, so I'm sharing with you.
Ingredients
1 bunch green onions, chopped
3/4 cup fried onions
2 cups olive oil
Instructions
Heat olive oil until almost simmering.
Throw in both onions and let simmer for 20-25 minutes.
Notes
Delicious for frying eggs, fried rice or noodles, etc.
http://shesthebross.com/2013/12/my-julyaugust-menu/
peach caprese salad | Oh my goodness, I saved the best for last. This salad was amazing. Just add a peach in your caprese salad and it will make you happy. So so so so good.
I know this is, what, 4 months late? I've been a smidge busy, but I still love to share the recipes I'm making – so follow me on facebook to see more up to date updates!